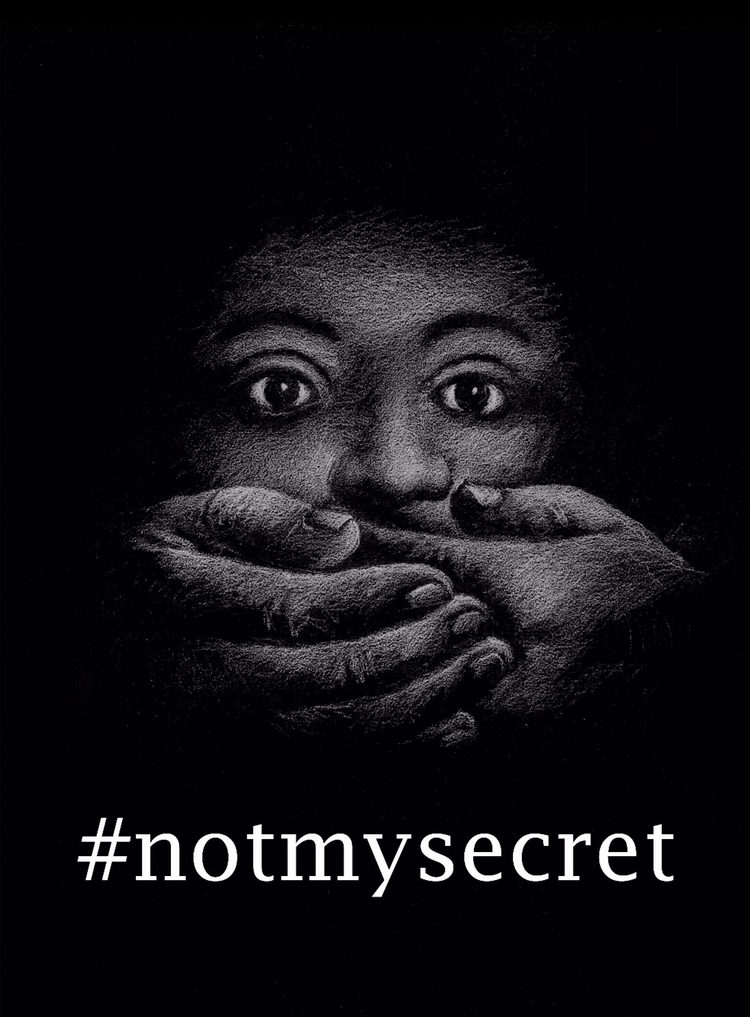 Call to artists & creators
SHOW DETAILS: Call to artists & creators for the #Notmysecret art exhibition that speaks out against sexual violence. Art submitted by artists and creators will reflect themes of empowerment, recovery, sexual violence and prevention, body image, healing & using ones voice.
This Call to Artists is an invitation to join a global community of artists working to end the silence and shame around sexual trauma. #Notmysecret exhibition offers a safe space of expression, a celebration of solidarity and empowerment.
By creating a space to share expression, there is an opportunity to rise above any shame/guilt, honour pain, and encourage conversation. Many survivors and allies are in different stages of this healing journey, and every stage is honoured, respected, and deserved to be heard. #Notmysecret is creating a safe space to survive and thrive.
CRITERIA:
* Artwork must be on the topic of sexual violence and healing.
* Artists who identify as survivors of sexual violence are strongly encouraged to submit work.
* Artists who do not identify as survivors of sexual violence may submit work.
Recognizing that art is an individual representation of a person's thoughts and vision we in no way wish to censor the work of any one artist. We do, however, respectfully reserve the right to determine if the work submitted for inclusion is appropriate for our thematic exhibition. The purpose of the guidelines is not to enforce uniformity, but to create a certain aesthetic consistency and a professional atmosphere of quality and attention to detail. We recognize that, depending on the nature of the works exhibited, certain of the guidelines may not always apply.
Please follow these guidelines when applying or choosing work for an exhibition to be shown at #notmysecret exhibit.
Please remember that #notmysecret exhibit is open to individuals of all ages and that art will be on display in common areas.
We exhibit two-dimensional and three-dimensional work, including photography, paintings, drawings, mixed media, fabric art, chalk, ink, pastels, graphite, printmaking, pottery and sculpture. Essentially, if we can hang it on a wall or if it fits on our pedestals, we will consider your art for acceptance.
All submissions must represent the actual artwork as closely as possible. If your work is misrepresented in anyway, we reserve the right to refuse to hang the artwork if it should be chosen for a show
The artwork submitted must be the original artwork of the artist and must not infringe on the rights of any other party. The artist must have obtained written permission of any people featured in the entries or their parents/guardians if children under 18 are featured. The artist is fully responsible to obtain all model or property releases.
Although every attempt will be made to keep work safe and secure, #notmysecret organizers will not be held responsible in any way for unforeseen damage to pieces on display. The artists understand that they are responsible for insuring their own work and agree they will not hold #notmysecret organizers liable in any way for damages or theft of any work on display.
Information on the Artist. Visitors are often interested in learning more about the artists. Exhibitors are also expected to make information on themselves available for visitors. All artwork must include a tag with the following information (if applicable)
Artist's Name
Artwork Title (if applicable)
Artwork Date/Year (if desired)
Artwork Medium
Artwork Dimensions/Size
Price (if applicable)
Contact (website or social) – (if applicable)
This is a curated exhibit which means not all work will be accepted. We strive to present quality art and will not accept work presented unprofessionally. But we ask that all artists understand that even if some of your work is not selected for the show your story expressed is highly valued and appreciated.